Aeolian-Skinner Opus #230-A Moves to Sedona, AZ
A Brief Historic Odyssey – 1915 to 2015
Intro: Unique From the Start
Given its relatively small size, the town of Oberlin, Ohio has certainly received more than its share of well-deserved historic accolades, recognitions and acknowledged 'firsts.'  Founded in 1833 by an active gathering of Presbyterian revivalists and committed abolitionists, Oberlin was for decades the welcoming last stop on America's 'Underground Railroad' – a network of back-road routes and safe houses used to harbor escaping slaves seeking freedom and safety in the Northern Mid-West states and Canada. 
It was natural, then, that Oberlin College, also founded in 1833, was from its beginning the first racially integrated college in the United States. Continuing its lead in social progress, Oberlin was also America's first co-educational college, admitting its first group of women in 1837. 
As the number of Oberlin's religious denominations increased, each included in their houses of worship pipe organs of distinction, with most every major American organ builder of the time represented. With the establishment of the Oberlin College Conservatory of Music in 1865, several additional organs were added to the town's growing roster of instruments. From those early days to the present, Oberlin, Ohio with its churches, College and Conservatory continues to have a greater concentration of pipe organs per capita than anywhere else on the planet.
Chapter I: "In the beginning…"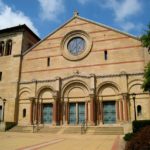 1908 saw the completion of Oberlin College's Finney Chapel, a grand Romanesque gathering hall designed to seat 1,950 for convocations, lectures, and performances. Ernest M. Skinner, recognized as the 'Father of American organ building' was commissioned to design and build Oberlin's grandest organ to date for Finney Chapel. Of the 1915 installation, the centennial history of the Conservatory noted: 
"Mr. Skinner said that the organ gave him the greatest opportunity he ever had to build an organ after his own heart. In quality of tone, variety of effects, and perfection of technical details, he believed 'it had no superior on this continent.' " 
In Mr. Skinner's publication The Modern Organ he proclaims the Finney Chapel installation to be the…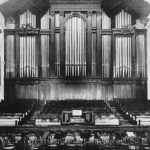 "…ideal location for an organ…in which the instrument stands in the auditorium, entirely open."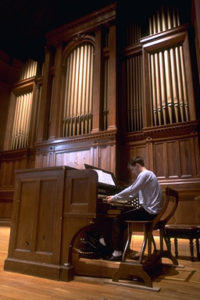 As organ design and tonal concepts continued to change, in 1955 the Aeolian-Skinner Organ Company was engaged to redesign the Finney Chapel instrument. The esteemed G. Donald Harrison, Aeolian-Skinner's president and tonal director, oversaw this important project keeping several of the original historic E. M. Skinner pipe sets and redesigning the tonal scheme of this 'Romantic/Symphonic' instrument towards the 'Neo-Classic' style in vogue at the time. With G. Donald Harrison passing away just months after completing the Finney Chapel organ, this instrument is one of the last two completed under his direct supervision. In its pedigree, this organ is the natural development and conclusion of the celebrated Aeolian-Skinner/Harrison installations which include San Francisco's Grace Cathedral, Boston's Symphony Hall, the Salt Lake City Tabernacle, and New York City's Cathedral of St. John the Divine.
Chapter II: "The Best Laid Plans…"
In 1997 Oberlin College received a significant bequest to be used to purchase a large new instrument of a tonal style not yet part of Oberlin's organscape. With the choice being a French-styled instrument, and with the only other concert hall large enough to house the gifted instrument having just received a significant new organ by the Dutch builder Flentrop, Finney Chapel was selected to receive the new installation. The Finney Aeolian-Skinner organ, with the incorporated pipe sets from the historic 1915 E. M. Skinner instrument that preceded it, had served multiple generations of Conservatory organ students and concert artists. It would need a new home. 
The instrument was sold to a congregation in the Episcopal Diocese of Virginia, and in 1999 was moved from Oberlin's Finney Chapel to the Indianapolis organ builders Goulding and Wood who had been chosen for the anticipated installation. Shortly thereafter, when the purchasing church attempted to secede from the Diocese, the organ became part of a legal battle lasting the better part of a decade. Ultimately, the church and its holdings, including the historic Finney Chapel Aeolian-Skinner, became the property of the Diocese, which had no idea what to do with an instrument of this size and stature. With the organ in storage in Indianapolis, the Diocese decided to sell it.
Chapter III: What a Small World!
It was Organ Clearing House (OCH), an organization that finds new homes for available organs, that had removed the instrument from its 85-year home in Oberlin and transported it to Indianapolis. OCH was once again engaged, this time as selling agent, to find another home for this now orphaned instrument. Of particular interest is that one John Bishop, an organ student at Oberlin in the early 1970's, and thus intimately acquainted with this instrument having so often played it in Finney Chapel, this same John Bishop was now the head of Organ Clearing House. 
It was expected that the Aeolian-Skinner organ, which represented American organ building from 1915 through the mid-20th century, would quickly find a new home. For most inquiries, however, the one bit of information which halted their interest was the clarification that only the organ's pipes were available. Evidently, the console, the windchests, bellows and other operating systems had not survived the 1999 removal from Oberlin's Finney Chapel.
Russell Fox, founder & director of the Sedona Conservatory, established in 2011, became aware of the Oberlin Aeolian-Skinner's availability in 2012 from Los Angeles organ builder Weston Harris. Having graduated from Oberlin Conservatory in 1969, Mr Fox, like OCH's John Bishop, was thoroughly familiar with Finney Chapel's Aeolian-Skinner and it's history. Mr. Fox opined, "It was not a major concern that this was going to be a 'pipes only' acquisition. After all, it's the irreplaceable tonal quality of the pipework that ultimately determines an organ's most distinctive nature. Having the original wind chests would have saved us a small fortune. However, with its anticipated installation in a new concert hall, not being restricted by the original configurations would allow for greater flexibility in its re-design and presentation."
To see the original Organ Clearing House Aeolian-Skinner #230-A sales offering, Click Here. 
Chapter IV: "Are you joking? Can this be?!"
Oberlin's Aeolian-Skinner Opus #230-A was purchased for the Sedona Conservatory in June, 2014, with the decision to keep it in storage in Indianapolis until appropriate facilities could be arranged in Sedona. With that finalized, in November, 2015 Mr. Fox traveled to Indianapolis to oversee the instrument's loading and cross country move. 
Goulding and Wood's staff and crew welcomed Mr. Fox to their organ building facilities, and then ushered him to their storage area to get re-acquainted with an old friend – the Oberlin Finney Chapel Aeolian-Skinner 230-A. Though Fox had heard many archival recordings of the instrument, he had not actually seen it since his own 1969 graduation from Oberlin Conservatory.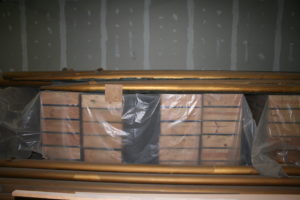 As the protective plastic sheeting was carefully pulled back from the nearly 30-foot tall pipes from the front of the original case, and 80+ wooden trays containing most of the organ's 5,000+ pipes, the first surprise revealed itself… Despite OCH's comment that a few of the large original E. M. Skinner bass pipes had been retained for the new Finney Chapel organ, in fact, none were retained – All of A/S 230-A's pipework was there and accounted for.  Mark Goulding then remarked, "Oh yes.., I believe these are also yours."  As more sheeting was removed, the unimaginable became clear: In addition to the fully specified pipe sets, all of the original bellows, bass pipe windchests, and even the shutters from the expression chambers had also survived the 1999 removal from Oberlin's Finney Chapel.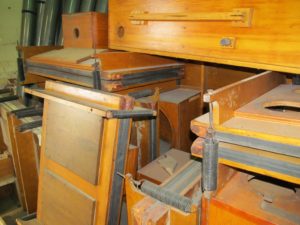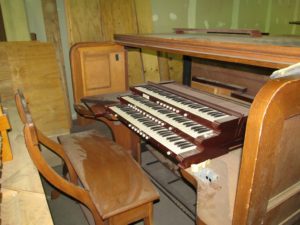 But, that was not all… The final layers of dust-covered sheeting were lifted revealing the instrument's magnificent console, originally constructed in 1915 by E. M. Skinner, and reconfigured in 1955 by Aeolian-Skinner's G. Donald Harrison. Discovering this unanticipated historic treasure trove was breathtaking, to say the very least.
It took two days for the moving crew to load the entire instrument into two 53-foot long moving vans. After its 16-year silent repose in Indianapolis, this grand instrument had now begun its westward trek to Sedona, Arizona to be reestabished and installed in Sedona Conservatory's Concert Hall.
On November 16, 2015 the meticulous work of off-loading the moving vans began. Based on 100's of photos taken the previous week in Indianapolis, the instrument's new curator, Weston Harris, and Sedona Conservatory director Russell Fox oversaw the 2-day process.
The following photo gallery highlights Aeolian-Skinner Opus 230-A's trek from Indianapolis to secure storage in Sedona, Arizona.  Please enjoy the journey.
---
Goulding and Wood Pipe Organ Builders
Indianapolis, Indiana USA
November 10-11, 2015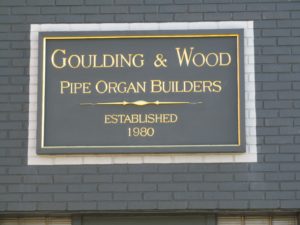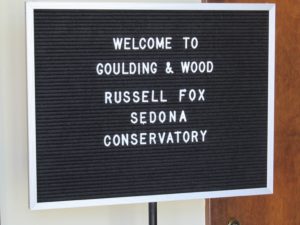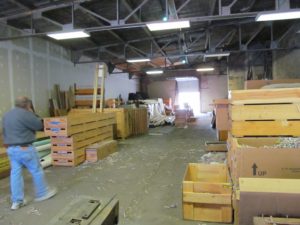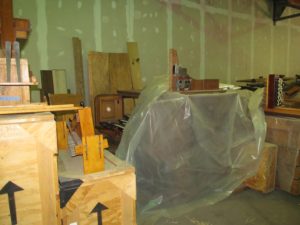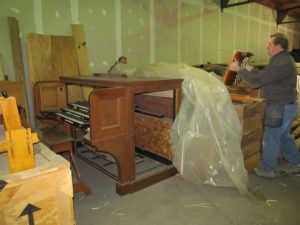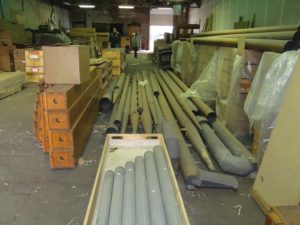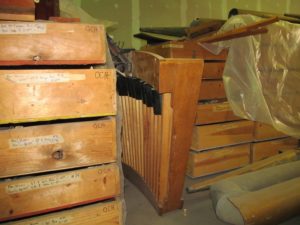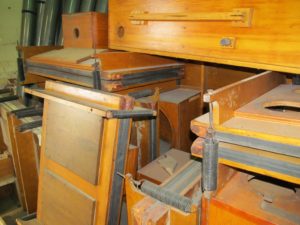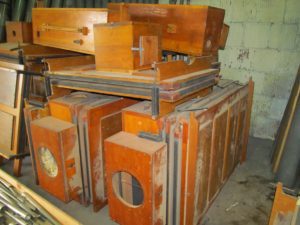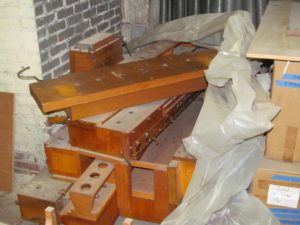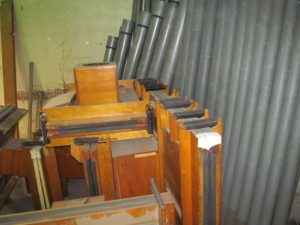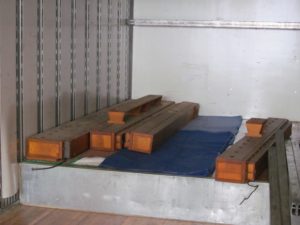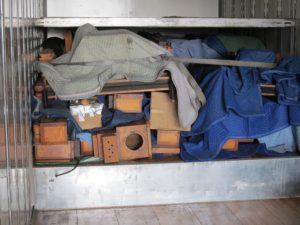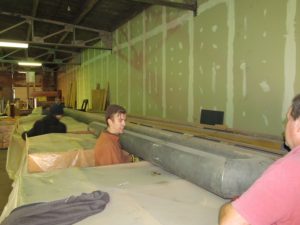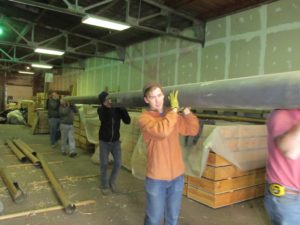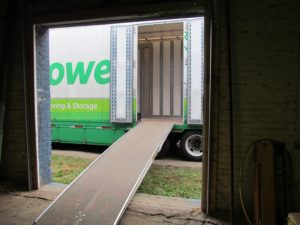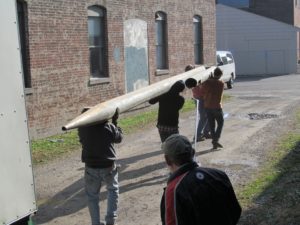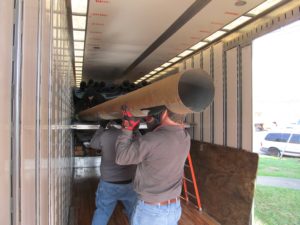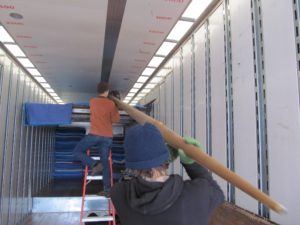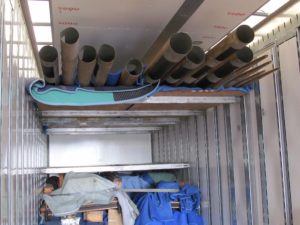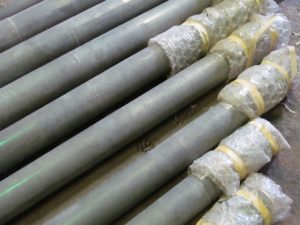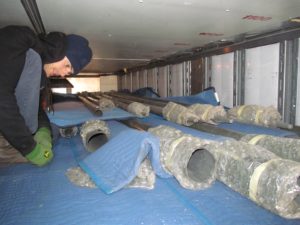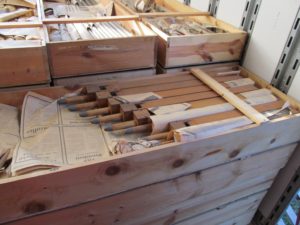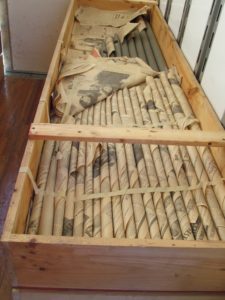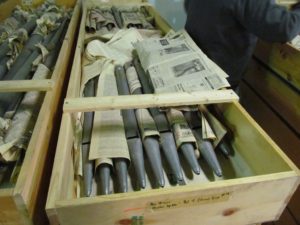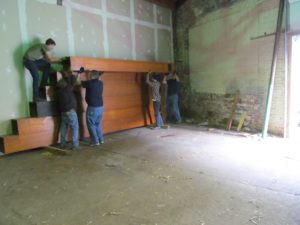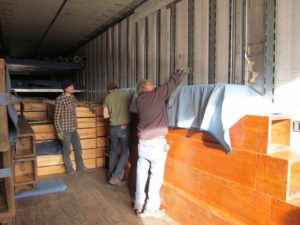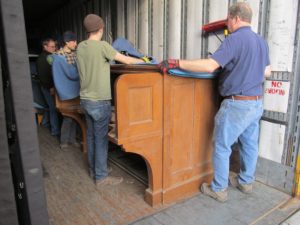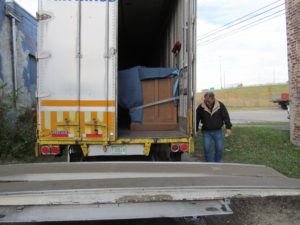 ---
Sedona Conservatory Organ Storage & Workshop
Sedona, Arizona USA
November 16-17, 2015
 
From Oberlin, Ohio, to Indianapolis, Indiana, and then to Sedona, Arizona. . .   The next chapter in this epic now begins.
---